Serves: 2 | Prep time: 10 mins | Cook time: 15 mins | Total time: 25 mins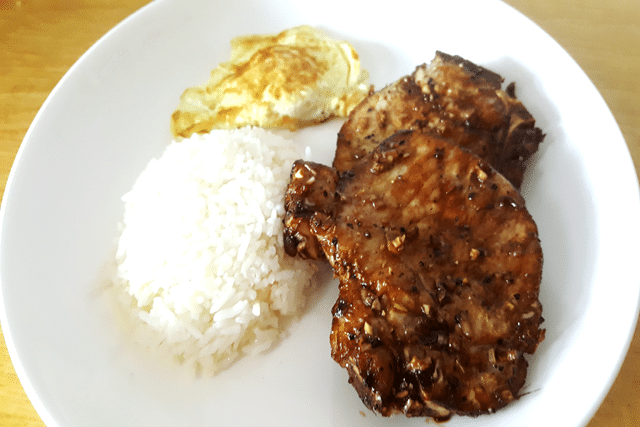 Vietnamese fried pork chops—are one of the easiest Vietnamese dishes to cook at home. You can hardly go wrong with the preparation, and the process is straightforward. The pork chops are full of unique lemongrass aroma that is so flavorsome. Trust me; you will be delighted by these delicious pork chops.
How to Cook Vietnamese Fried Pork Chops with Air Fryer
Ingredients
2 slices Pork Chops
1 tablespoon Brown Sugar
1 tablespoon Garlic (chopped)
1 tablespoon Shallot (chopped)
3 tablespoon Lemongrass (trimmed and finely chopped)
1 teaspoon Black Pepper
1 teaspoon Dark Soy Sauce
1 tablespoon Fish Sauce
1 tablespoon Oil
Directions
Place the pork chops in a medium bowl.
Add brown sugar, garlic, shallot, lemongrass, black pepper, dark soy sauce, fish sauce, and oil into the bowl.
Marinate the pork and keep in the fridge for 2 hours
Preheat the air fryer at 400°F for 3 minutes
Place the pork chops into the air fryer basket.
Cook for 7 minutes. Flip the pork chop and cook for another 5 minutes.
Once done, serve the fried Vietnamese fried pork chop with steamed rice and a fried egg.
Ashley started AirfryerMasterchef to provide genuinely useful airfryer-related reviews, guides, tips, and recipes.
"I fell in love with the air fryer ever since I started using it. I am passionate about cooking with it and have created many easy recipes that anyone can try at home."