Last Updated on May 18, 2022 by Ashley Ward
Looking for some delicious air fryer chicken recipes? Look no further! We've collected 11 of the best recipes from around the internet. From crispy, crunchy wings to tender, juicy drumsticks, we've got you covered.
WHAT TYPE OF CHICKEN RECIPES CAN YOU COOK IN AN AIR FRYER?
Just about any type! While chicken breasts are the most popular choice, you can also cook wings, drumsticks, thighs, and even whole chickens in an air fryer. The key is to find recipes that suit your taste. Whether you like your chicken crispy or juicy, there's an air fryer chicken recipe out there for you.
TIPS ON COOKING CHICKEN IN THE AIR FRYER
Cut chicken into even pieces: This will help ensure that your chicken cooks evenly. No one likes burnt wings and dry breasts!
Marinate your chicken: This will help to keep your chicken moist and flavorful.
Be careful not to overcrowd the air fryer basket: This can lead to uneven cooking. If necessary, cook in batches.
Preheat the air fryer: This will help to ensure that your chicken cooks through evenly.

Wet batter does not work well in air fryer: If you want to use a wet batter, cook the chicken in the oven first, then finish it off in the air fryer to get that perfect crispy coating. Otherwise, the ideal coating is a breaded, flour, or baking powder one.
Are you ready to jump into some delicious air fryer chicken recipes? Well, buckle up, because we're about to dive right in!
11 BEST AIR FRYER CHICKEN RECIPES
1. AIR FRYER ORANGE CHICKEN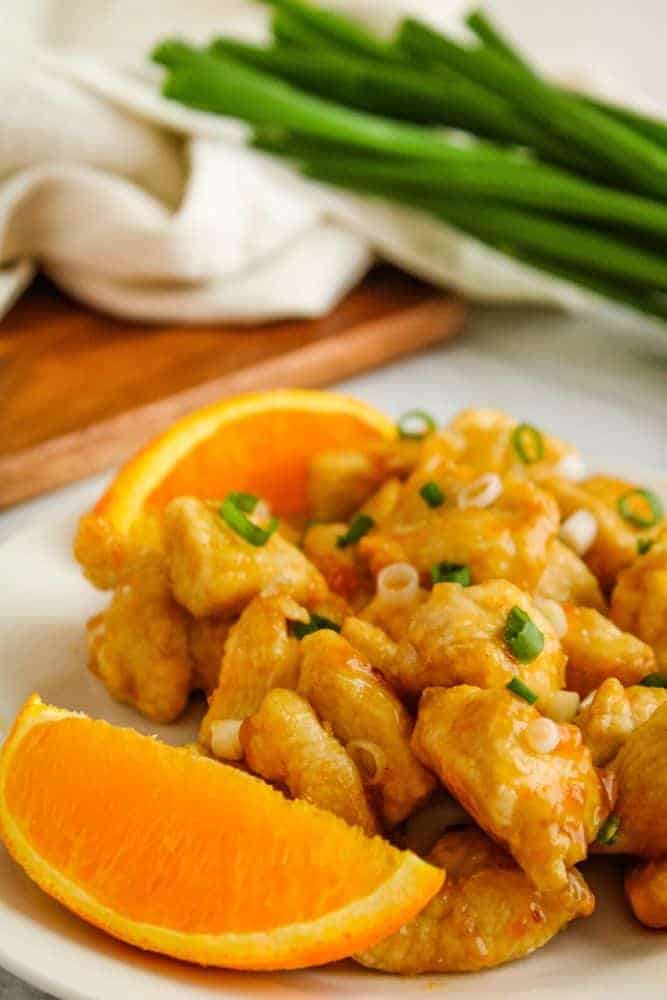 This air fryer orange chicken recipe is a healthier take on the Chinese take-out classic. The chicken is coated in a crispy batter and then cooked in the air fryer until golden brown. It's then tossed in a sticky, sweet, and tangy orange sauce. Serve it over rice or quinoa and you have a complete meal that's packed with flavor.
2. AIR FRYER CHICKEN BREAST
Cooking chicken breast can get pretty boring, pretty fast. But with an air fryer, you can make it a little bit more exciting. This air fryer chicken breast recipe is simple and delicious. Plus, it doesn't take long to cook – so you can have a healthy meal on the table in no time!
3. AIR FRYER WHOLE CHICKEN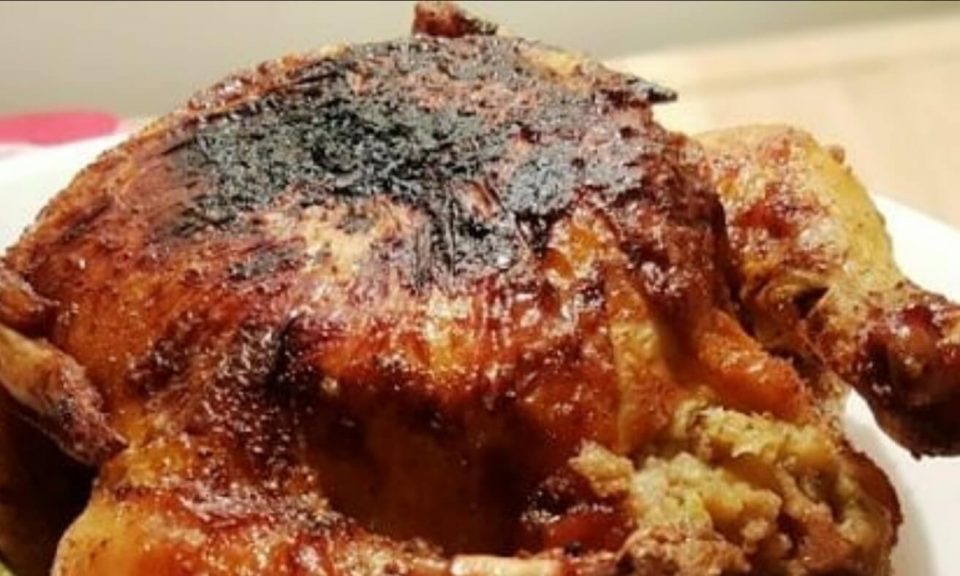 There's nothing like a home-cooked meal, especially when it's a whole chicken cooked in your air fryer! This easy recipe is perfect for a weeknight dinner, and the leftovers are great for packing in your lunch or shredding for tacos or salads. Plus, you can customize the seasonings to make it just the way you like it. Give this air fryer chicken recipe a try today!
4. AIR FRYER CHICKEN THIGHS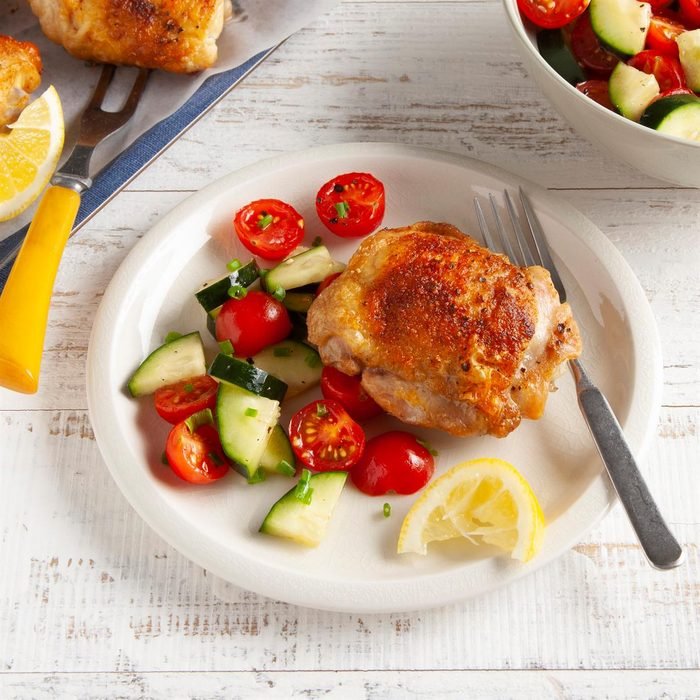 Are you looking for an amazing air fryer chicken thighs recipe? Look no further! This recipe is simple to follow, and the end result is delicious. You will love how crispy the chicken thighs are, and they are perfect for a quick and easy meal. Enjoy!
5. AIR FRYER CHICKEN DRUMSTICKS
If you're looking for a delicious and easy air fryer chicken drumsticks recipe, you've come to the right place! This recipe is incredibly simple and only requires a few ingredients. You'll have delicious and crispy chicken drumsticks in no time! So, what are you waiting for? Try this recipe today!
6. AIR FRYER CHICKEN TENDERS
Do you love chicken tenders, but hate the fat and calories? Well, air frying is your solution! Air frying is a great way to cook food with little to no oil, which means you can enjoy your favorite comfort foods without all the guilt. These chicken tenders are crispy on the outside and juicy on the inside, and they only take about 15 minutes to make. So skip the drive-thru and make your own chicken tenders at home instead!
7. AIR FRYER FROZEN CHICKEN WINGS
Most of us know that chicken wings are a classic party food. But did you know that you can air fry them? This means they're not only healthier than normal chicken wings, but they're also a lot crispier. Keep reading to find out how to make air fryer frozen chicken wings.
8. AIR FRYER BUFFALO WINGS
Who doesn't love Buffalo wings? They're the perfect appetizer for any party. But frying up wings can be a mess, and it can be tricky to get them evenly coated in sauce. That's where the air fryer comes in. You can make perfectly crispy buffalo wings right at home without all the fuss. Just follow these simple steps and you'll have a delicious appetizer that everyone will love.
9. AIR FRYER CHICKEN CUTLETS
If you're looking for an easy, healthy dinner idea, look no further than air fryer chicken cutlets. They're simple to make and taste great with just a few seasonings. Plus, cooking them in the air fryer is a lot healthier than frying them in oil. Give this recipe a try tonight!
10. AIR FRYER SALTED EGG CHICKEN
Anyone who knows me knows that I'm a sucker for chicken recipes. I love trying new ones, and this air fryer salted egg chicken recipe is definitely a winner. The chicken is so juicy and flavorful, and the salty-sweet glaze is to die for. Plus, it's really easy to make! If you're looking for a delicious new chicken recipe to try, be sure to give this one a go. You won't regret it!
11. AIR FRYER CHICKEN SAUSAGES
Do you love chicken sausage but don't love all the fat that comes with it? Well, have I got the perfect solution for you! The air fryer is a great way to make chicken sausage without all of the extra oil. Plus, it's really easy to use and doesn't take up a lot of space. So if you're looking for a healthier alternative to traditional chicken sausage, give this recipe a try!
Now that you know all about the best air fryer chicken recipes, it's time to start cooking! These recipes are healthy, delicious, and perfect for any occasion. Don't forget to share your favorites with us on social media. We can't wait to see what amazing creations you come up with. Happy frying!
Latest posts by Ashley Ward
(see all)