Last Updated on July 13, 2022
Ultrean is a premier online retailer of exclusive kitchen and home appliances located in Las Vegas, NV. They have a wide variety of air fryers that serve the needs of homeowners. The 4.2-Quart Ultrean Air Fryer is easily one of the most liked and well-reviewed air fryers from them; it has more than 5000 reviews on Amazon and has a high rating of 4.8. In this Ultrean Air Fryer review, I shall share with you why this is one of the most popular kitchen appliances.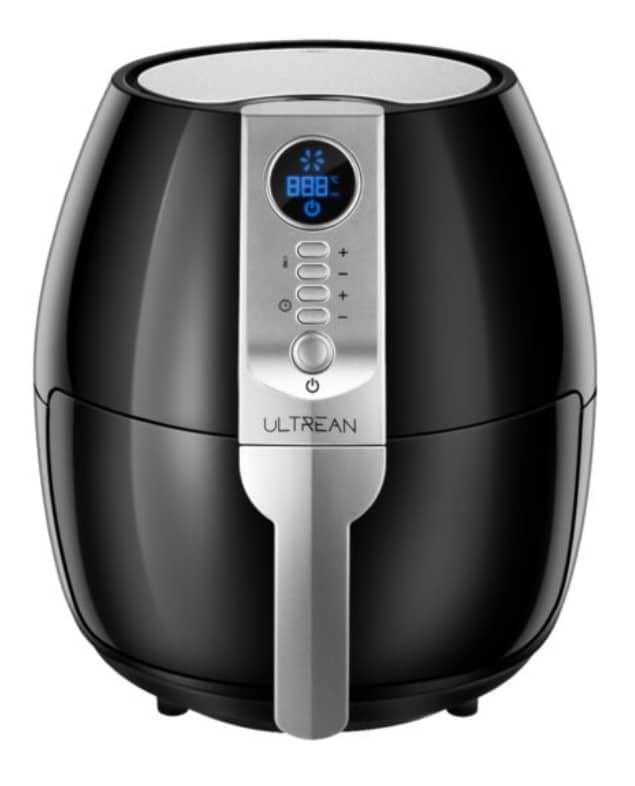 The Ultrean Air Fryer 4.2-Quart comes in four attractive colors – blue, red, black, and white that will compliment any kitchen décor. Let's have a look at the features.
Features of 4.2-Quart Ultrean Air Fryer
Dimension: 14.25 x 13.25 x 13 inches
Weight: 10.27 pounds
Power: 1500 watts / AC 120V
Temperature range: 180°F-400°F
Timer: 30 minutes
Easy to Clean: It has a nonstick pan, heat-resistant handle, and a detachable dishwasher-safe basket, so it's easy to cook and clean the unit after cooking
Comes with a cookbook with 10 recipes
4 colors to choose from – Black, Red, Blue, White
Warranty: 1 year
How to Set Up the Ultrean Air Fryer?
The overall setup of the Ultrean 4.2 QT Air Fryer is very easy and straight-forward.
Plug in the air fryer.
Select cooking preset or manually select temp and cooking time (most foods do better if you pre-heat the air fryer)
Place your food in (a little cooking spray on the bottom can help some foods)
Hit start.
Flip or shake halfway through (depending on the food).
Ultrean Air Fryer Review Item: Air Fryer Steak Bites
I tested the air fryer by cooking some Air Fryer Steak Bites. This is a very simple recipe that you can try too. First, cut a piece of 1 pound ribeye steak into 1-inch cubes.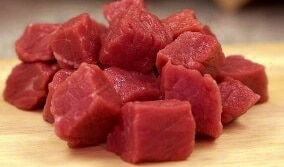 Next, in a small bowl, combine the salt, pepper, garlic powder, onion powder, paprika, and rosemary. Sprinkle the mixed dry seasoning on the steak cubes. Make sure that they are coated evenly so that every bite is tasty. Place the steak cubes in a single layer in the air fryer basket. Cook at 380°Ffor 12 minutes. Give it a shake halfway through cooking.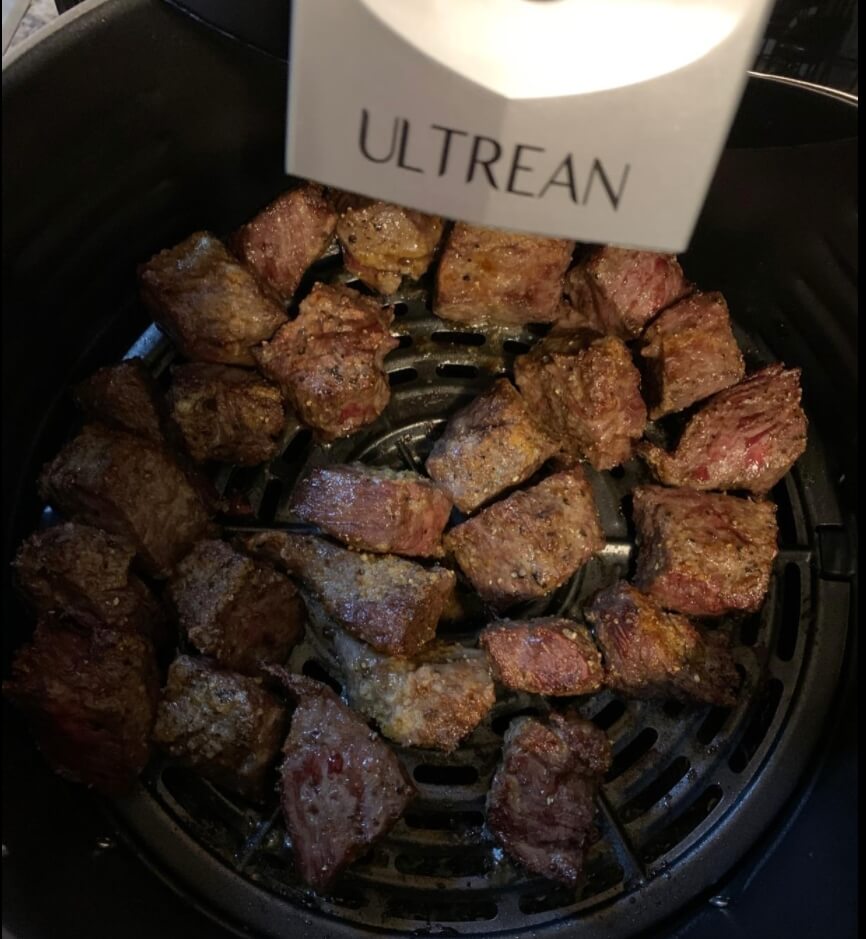 The steak bites taste awesome. A little crisp on the outside, juicy and tender inside. One thing I do not like about the Ultrean Air Fryer is that the timer adjusts by 10°F and not 5°F.
What's the Bottom Line
It is really simple to use the Ultrean 4.2-Quart Air Fryer and the size is perfect for cooking for 3-4 persons. I recommend using parchment paper in the air fryer to make clean up even easier as over-scrubbing may cause non-stick coating to peel off.
The design for this model is very modern which is what I like and there are four colors to choose from. This is good for you if you do not like the usual black color which is the common color for most air fryers. The user interface is brilliant and control buttons are easy to operate. With its affordable price, I think the Ultrean 4.2-Quart air fryer is worth investing in.
Besides, with the excellent customer service that the manufacturer provides, they will solve any issue that you encounter with the appliance.
For a larger family that needs a bigger capacity air fryer, you may consider the latest model from Ultrean. This Ultrean 6 Quart Air Fryer comes with a stainless steel finishing and it has more functions that the 4.2 Quart model. I will write a review on this once I have the opportunity to try it out. Meanwhile, you can check it out on Amazon for more details.