Serves: 1 | Prep time: 10 mins | Cook time: 30 mins | Total time: 40 mins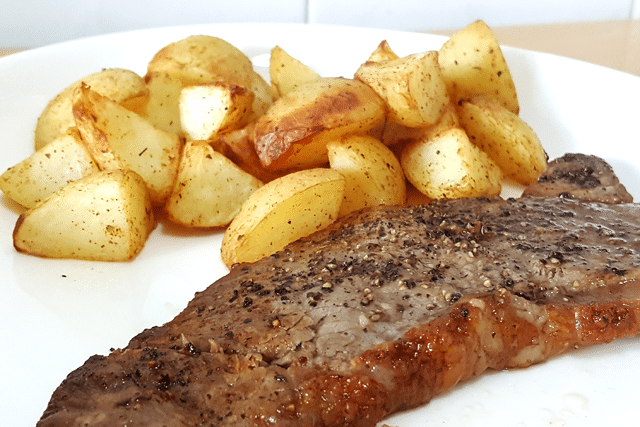 This Steak with Roasted Potatoes is so easy to cook with an air fryer and you will not miss all the mess. The steak is full of flavor from the herbs and spices and the potatoes are perfectly crispy and soft inside. I promise you will love this recipe.
How to Cook Steak and Roasted Potatoes with the Air Fryer
Ingredients
1/2 lb Striploin Steak
4 Small Potatoes (chopped)
1 1/2 tablespoon Olive Oil
1 teaspoon Cayenne Pepper
1 teaspoon Italian Herbs
1 teaspoon Salt
1 teaspoon Pepper
Directions
In a medium bowl, add potatoes, olive oil, cayenne pepper, Italian herbs, and salt. Mix evenly.
Preheat air fryer to 360°F for 5 minutes
Place potatoes into the air fryer basket.
Cook for 15 minutes. Toss the potatoes halfway through.
Once cooked, set aside.
Rub oil, salt, and pepper on both sides of the steak.
Place the steak into the air fryer basket. Cook at 400°F for 7 to 13 minutes, depending on the preference of steak doneness.
Once done, let the steak rest for 10 mins.
Serve the steak with roasted potatoes.