Last Updated on October 3, 2020 by Ashley Ward
Serves: 2 | Prep time: 5 mins | Cook time: 20 mins | Total time: 25 mins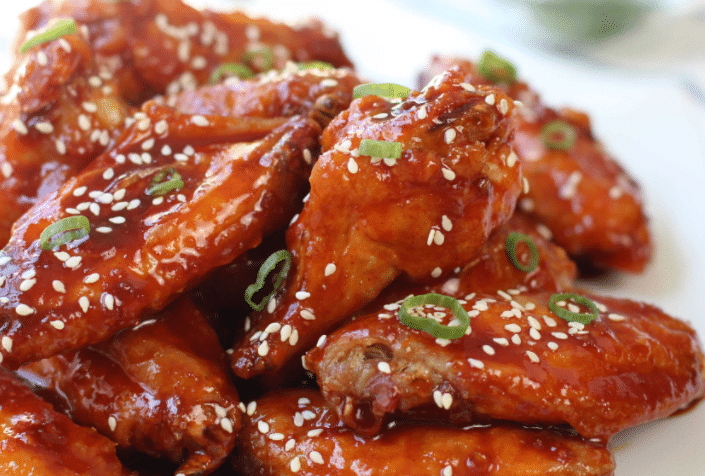 These crispy, crunchy, spicy Korean fried chicken wings are incredibly delicious! You're going to love it, I promise. They are perfect for a party or any occasion, and everyone will love them.
How to Cook Korean Fried Chicken Wings with Air Fryer
Ingredients
8 Chicken Wings
1 teaspoon Salt
1 tablespoon Olive oil
1 tablespoon Cornflour
3 tablespoons Brown sugar
2 teaspoons Ginger (grated)
3 Garlic cloves (chopped and minced)
1 tablespoon Gochujang (Korean chilli paste)
1/3 cup Soju (Korean rice wine)
White sesame seeds (for garnishing)
Directions
Place the chicken wings into a mixing bowl. Add some salt and oil. Mix well and marinate them.
Leave the chicken wings in the fridge for 1 to 2 hours.
Add cornflour into the mixing bowl, coat the chicken wings with cornflour evenly.
Preheat the air fryer at 360°F for 5 minutes.
Spray some oil lightly onto the air fryer basket. Place and arrange the chicken wings in the basket. Cook for 20 minutes. Turn the wings halfway through.
While the chicken wings are cooking, in a medium pan, add brown sugar, ginger, garlic, Soju, and Gochujang. Stir the mixture on medium heat until it turns syrupy.
Pour the sauce into a bowl over a sieve to remove the residue.
Once the Korean fried chicken wings are ready, take them out and toss them in the sauce and coat evenly.
Garnish with sesame seeds.
Check out our reviews on the best air fryers in 2020 here.
Latest posts by Ashley Ward
(see all)