Last Updated on March 17, 2023 by Ashley Ward
Today, I'm excited to share one of my all-time favorite recipes with you: Air Fryer Apple Chips!
These apple chips are not only scrumptious, but they're also a fantastic way to make use of those extra apples you might have lying around. Plus, they're perfect for satisfying those afternoon munchies, packing in school lunches, or even serving as a delightful party snack. So, without further ado, let's dive into this simple, mouth-watering air fryer apple chips recipe!
Air fryer is the new trendy appliance that many families had adopted in recent years. The air fryer can make healthy fried food with no oil or very little oil by using hot air circulation to fry the food instead. With this new technology, we can enjoy fried food guilt-free and still stay healthy. Making fried apple chips with the air fryer is very simple. Let me share with you my recipe. I promise you that you will find these apple chips simply irresistible.
What Do You Need For Air Fryer Apple Chips
Before we get started, let's gather our ingredients. For this recipe, you'll need:
2-3 large apples (I recommend using a sweet variety like Honeycrisp, Fuji, or Gala)
1-2 teaspoons of cinnamon (adjust according to your taste)
1 tablespoon of olive oil
That's it! Just a few simple ingredients are all you need to create these tasty apple chips.
How to Make Air Fryer Apple Chips
Step 1: Prep your apples
First things first, give your apples a thorough wash to remove any dirt or residue. Then, remove the core using an apple corer or a sharp knife. If you don't have a corer, don't worry! You can simply slice your apples first and then carefully cut out the core from each slice.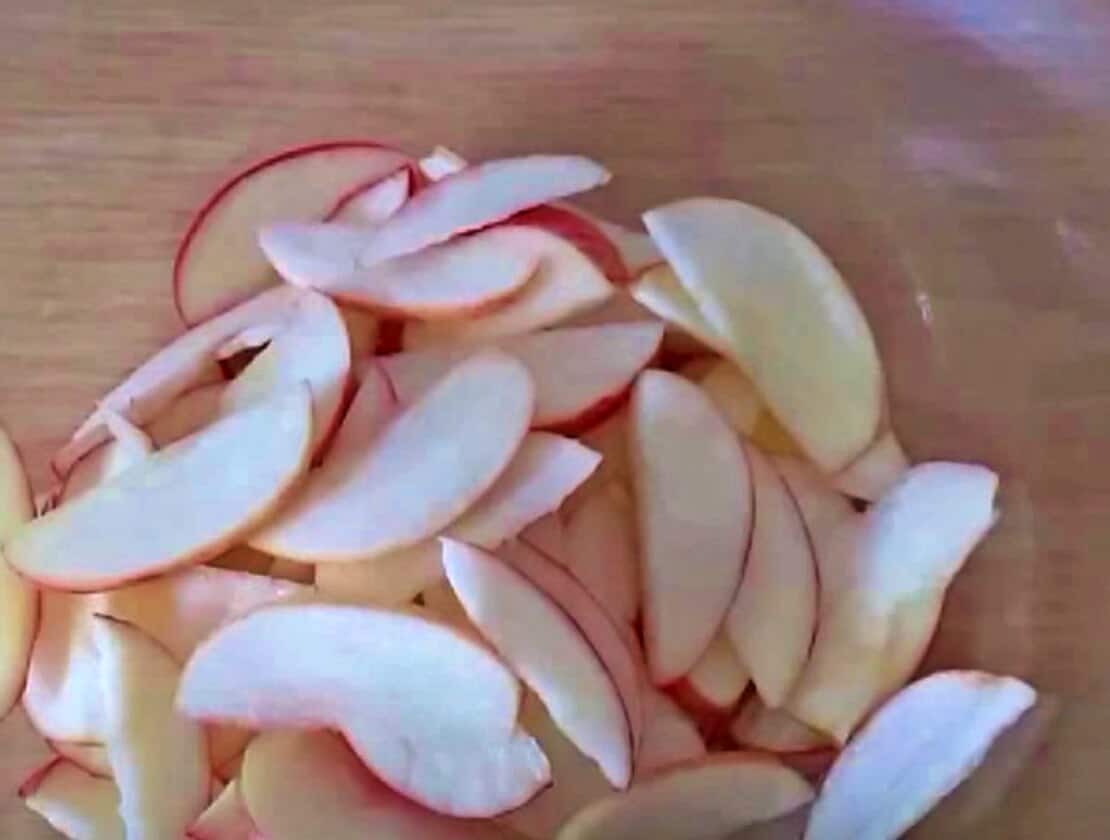 Next, use a mandoline slicer or a sharp knife to thinly slice your apples. Aim for slices about 1/8-inch (3mm) thick. The thinner the slices, the crispier your apple chips will be!
Step 2: Season the apple slices
In a large bowl, sprinkle the cinnamon and olive oil over the slices, making sure to coat them evenly. Feel free to get creative with your seasoning! You can experiment with other spices like nutmeg, ginger, or even pumpkin pie spice for a delightful twist on this classic recipe.
Step 3: Arrange the apple slices in your air fryer
Preheat your air fryer to 360°F (180°C) for a few minutes. While it's heating up, arrange your seasoned apple slices in a single layer on the air fryer tray or basket. Try to avoid overlapping the slices, as this may cause them to cook unevenly.
Step 4: Cook the apple chips
Now it's time for the magic to happen! Pop the tray or basket into your preheated air fryer and cook the apple slices for 20 minutes. Then, carefully flip each slice every 5 minutes. Keep an eye on your chips during the last few minutes of cooking, as they can quickly go from perfectly crisp to burnt.
The total cooking time will depend on the thickness of your apple slices and the specific air fryer you're using. You may need to experiment with the timing to achieve your desired level of crispiness.
Pat dry and place them into a medium bowl. Add olive oil and cinnamon or any spice of your choice. Coat the apple evenly. Preheat the air fryer at 360°F for 5 minutes. Place the apple slices into the basket. Cook for 20 minutes. Give them a toss every 5 minutes. Once cooked, let it cool before serving. You can keep them in a jar and eat them as a snack later on.
Step 5: Let the apple chips cool
Once your apple chips are cooked to perfection, carefully remove them from the air fryer and transfer them to a wire rack to cool. As they cool, the apple chips will become even crispier. If you don't have a wire rack, you can also place them on a plate lined with a paper towel to absorb any excess moisture.
Step 6: Enjoy and store your apple chips
Now comes the best part: enjoying your homemade air fryer apple chips! You can serve them immediately, or you can store them in an airtight container at room temperature for up to a week. However, I must warn you – these apple chips are so addictive that they might not last that long!
What Apples are Best for Apple Chips?
Honeycrisp Apple
Gala Apples
Fuji Apples
Pink Lady Apples
Tips for making the perfect air fryer apple chips
Here are a few extra ideas to help you make the most delicious air fryer apple chips possible:
When selecting apples, look for ones that are firm and free of blemishes. This will ensure that your apple chips have the greatest flavor and texture possible.
Don't be scared to experiment with different apple kinds! Utilizing several types of apples can give your chips a unique depth of taste.
Try seasoning your apple chips with a sprinkle of sea salt or a dash of smoky paprika for a more savory snack.
Frequently Asked Questions (FAQs)
How long do apple chips last?
Properly kept apple chips last a week. Before storing apple chips in an airtight container, let them cool fully. Keep them cool, dry, and out of direct sunshine to keep them crisp. 
Are apple chips healthy?
Apple chips are healthier than fried potato chips or other high-calorie, high-fat foods. Dietary fiber, vitamin C, and antioxidants make apples healthy.
How long to cook apple chips in air fryer
The cooking time for apple chips in an air fryer can vary depending on the thickness of the slices and the specific air fryer you're using. Generally, it takes about 16-20 minutes to cook apple chips in an air fryer.
Air Fryer Apple Chips
Air Fryer Apple Chips are a nutritious and delicious snack that you can make at home to ensure you don't miss out on your daily fruit serving. They are so sweet and crispy that my kids love them so much.
Ingredients
2

medium

Apple

sliced

1

tbsp

Oilve oil

1

tsp

Ground cinnamon
Instructions
Slice two medium-size apples into thin slices

Pat dry and place them into a medium bowl. Add olive oil and cinnamon or any spice of your choice. Coat the apple evenly.

Preheat the air fryer at 360°F for 5 minutes. Place the apple slices into the basket. Cook for 20 minutes. Give them a toss every 5 minutes.

Once the apple chips are ready, let it cool before eating
Video
---
Latest posts by Ashley Ward
(see all)