Last Updated on February 6, 2022 by Ashley Ward
Serves: 4 | Prep time: 5 mins | Cook time: 10 mins | Total time: 15 mins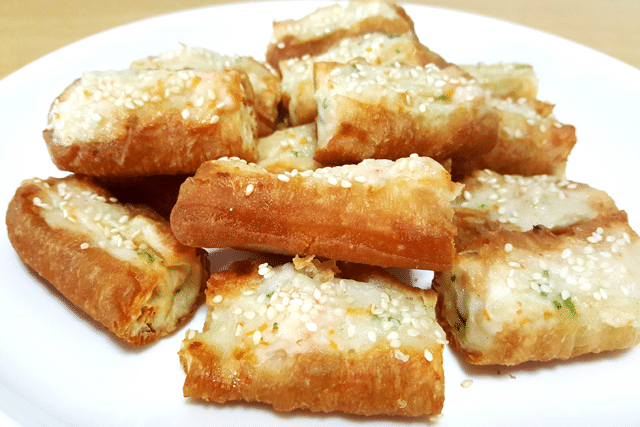 These airfryer fish paste fritters are popular in most seafood restaurants in Singapore and Malaysia. This air fryer fish paste fritters recipe is a less-oily version of the original ones. I promise that you will love the crispy and crunchy fritters and the flavorsome fish paste. Enjoy this as a snack or a side dish.
How to Cook AirFryer Fish Paste Fritters
Ingredients
3 pair Fried Dough Fritter (You Tiao) – Can substitute with puff pastry.
1 cup Fish paste
1 teaspoon Sesame oil
1 teaspoon Sugar
1 teaspoon Pepper
1/4 cup Carrot (finely chopped)
1/4 cup Spring Onion (finely chopped)
1/2 cup Prawn (finely chopped)
2 Egg Whites
3 tablespoons Cornflour
1/2 tablespoon Olive Oil
1 teaspoon Sesame Seeds (for garnish)
Directions
Split the dough fritters apart, cut into five 2-inch pieces.
Cut a slit in the middle soft part of fritter.
In a mixing bowl, add fish paste, sesame oil, sugar, pepper, sugar, onion, prawn, egg whites, and cornflour.
Combine and mix well.
Spread the paste into each dough fritter. Garnish with sesame seeds.
Preheat air fryer for 5 minutes at 325°F.
Lightly spray some olive oil onto the air fryer basket.
Place the fritters into the air fryer. Cook for 10 minutes. Give them a toss halfway through.
Take the fritters out from the air fryer and serve an appetizer or snacks.
Check out our reviews on the best small air fryers in 2020 here.
Latest posts by Ashley Ward
(see all)