Last Updated on March 30, 2022 by Ashley Ward
Say goodbye to greasy, unhealthy latkes with this easy Air Fryer Latkes recipe! These latkes are super crispy and free of any added oil or grease.
Hanukkah is coming up, and that means it's time to start thinking about latkes. But frying them can be a bit of a pain. Never fear – the air fryer can help! These easy air fryer latkes are delicious and simple to make. Give them a try this year!
The latkes are prepared in the traditional way by grating the potatoes and onion. But, as anyone who's ever made them knows, that's just the start.
After you've got your nicely grated ingredients, you need to add some egg to bind it all together. In this recipe, instead of frying them up in oil, the cooking is simply done in the air fryer.
WHAT IS LATKES?
Latkes are a Jewish dish made from shredded potatoes and onions that are mixed with egg and then deep-fried. They are often eaten as part of the Hanukkah celebration.
WHAT IS THE DIFFERENCE BETWEEN LATKES AND POTATO PANCAKES?
Wondering what the difference is between potato pancakes and latkes? The main difference is that potato pancakes are usually made with a combination of shredded potatoes and flour, while latkes are made only with shredded potatoes. Latkes are also generally thinner than potato pancakes. They both taste great, but for those who want a true traditional latke experience, go for the latkes!
WHAT IS THE BEST POTATO TO USE FOR LATKES?
There are a few different types of potatoes that can be used for latkes, but the most popular choice is the russet potato. It has a high starch content, which makes it perfect for making latkes that are crispy on the outside and fluffy on the inside. Other good choices include Yukon gold potatoes and red potatoes. Avoid using waxy potatoes like new potatoes or fingerlings, as they will not work well for this recipe.
WHAT ARE NEEDED TO MAKE AIR FRYER LATKES
Here's what are needed to make classic crispy latkes.
Ingredients:
Potatoes: I prefer Russet potatoes, but Yukon gold potatoes and red potatoes are good choices too.
Onion: I usually use yellow onion.
Eggs.
Panko
Salt and Pepper
Sour Cream, Apple Sauce, and Chives: For serving.
HOW TO MAKE AIR FRYER LATKES
Set the air fryer to preheat to 400˚F before you begin. Grate the potatoes and onion on the large holes of a box grater next. Then gather everything together in a clean kitchen towel, pull up the corners, and squeeze out as much moisture as possible
In a large mixing dish, combine the dried potatoes and onions. Add the eggs, panko crumbs, salt, and pepper and mix thoroughly.
Using a fork, make small dollops of the potato mixture and flatten each to form patties. Spray the patties with cooking spray and cook in the air fryer for 8 minutes.
Flip the latkes over after 8 minutes. Then, spray them with cooking spray again. Let them cook for another 5 minutes, or until they are crispy and golden brown all over.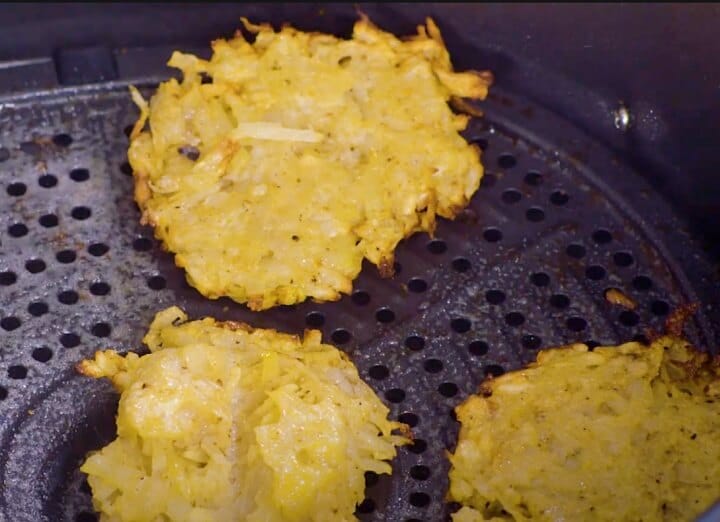 Serve the latkes warm, with sour cream and chives or whatever toppings you like.
TIPS
Make sure the latkes are spaced out in the air fryer. The latkes won't cook as well if you cram the racks or basket together, and they might even turn mushy!
You can modify the air fryer latkes recipe by adding a kick of flavor to your latkes with herbs and spices like garlic powder, seasoned salt, or even nutmeg and cinnamon.



If you're looking for a delicious and healthy way to celebrate Hanukkah this year, give air fryer latkes a try! They're simple to make and sure to please even the pickiest of eaters. We hope you enjoy them!

WHAT ARE THE BEST AIR FRYER TO USE
---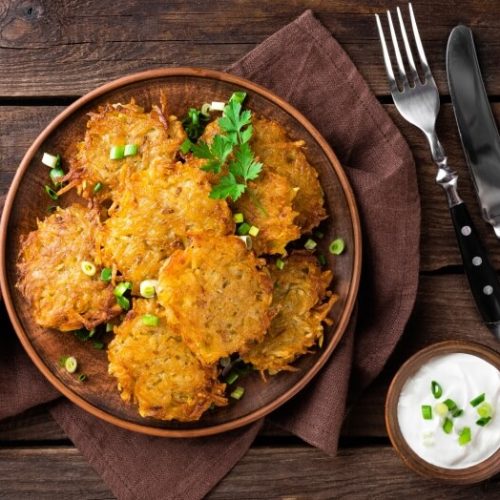 Air Fryer Latkes
Say goodbye to greasy, unhealthy latkes with this easy Air Fryer Latkes recipe! These latkes are super crispy and free of any added oil or grease.
Ingredients
3

Russet potato

1

Small yellow onion

2

Eggs

1/4

cup

Panko Breadcrumbs

1

tsp

Salt

1/4

tsp

Ground black pepper

Chopped chives
Instructions
Preheat the air fryer to preheat to 400˚F

Grate the potatoes and onion on the large holes of a box grater next. Then gather everything together in a clean kitchen towel, pull up the corners, and squeeze out as much moisture as possible

In a large mixing dish, combine the dried potatoes and onions. Add the eggs, panko crumbs, salt, and pepper and mix thoroughly.

Using a fork, make small dollops of the potato mixture and flatten each to form patties. Spray the patties with cooking spray and cook in the air fryer for 8 minutes.

Flip the latkes over after 8 minutes. Then, spray them with cooking spray again. Let them cook for another 5 minutes, or until they are crispy and golden brown all over.

Serve the latkes warm, with sour cream and chives or whatever toppings you like
Latest posts by Ashley Ward
(see all)