As someone who enjoys preparing meals, I'm always looking for new kitchen tools that would make it simpler for me to prepare delectable dishes. Because of this, I decided to test out the Ninja Foodi DZ401 air fryer, and let me assure you, it did not fall short of my expectations in any way. In this Ninja Foodi DZ401 review, we'll take an in-depth look and explore its unique features, pros, and cons, and who it's suitable for.
Features of Ninja Foodi DZ401
The Ninja Foodi DZ401 is everything you've been looking for. This larger-than-life air fryer features two separate 5-quart baskets, eliminating the need to cook two separate batches of food in two separate batches in a standard air fryer.
The Ninja DZ401 air fryer has two separate heating zones thanks to its DualZone technology. Match Cook allows you to copy settings across zones for full 10-quart capacity dinners, and Smart Finish allows you to cook two things to finish at the same time. The DZ401's IQ Boost feature ensures that a 6-pound whole chicken and a side dish receive the correct amount of cooking power.
It also has six more useful cooking modes besides air frying, including air broiling, roasting, baking, reheating, and dehydrating. And with its XL family-sized capacity, you can quickly prepare meals for a large group without sacrificing quality. It can cook up to 8 pounds of chicken wings at once, for example.
The Ninja Foodi DZ401 has two separate XL 5-quart zones, each with its own cooking baskets, cyclonic fans, and rapid heaters; this allows for faster cooking times, up to 30% faster than a conventional oven. With a temperature range of 105°F to 450°F, you can quickly prepare dishes from frozen to crisp in under 30 minutes.
Its crisper plates and baskets are both removable and dishwasher safe, further simplifying cleanup. Included are two 5-quart baskets, two nonstick crisper plates, fifteen different meal plans, and a cooking chart.
Specifications:
| | |
| --- | --- |
| Product Dimensions | 13.9″D x 17.1″W x 12.8″H |
| Color | Grey |
| Capacity | 10 Quarts |
| Material | Stainless Steel, Plastic |
| Recommended Uses For Product | Roast, Broil, Bake, Reheat, Dehydrate |
| Output Wattage | 1690 Watts |
| Item Weight | 19.8 Pounds |
| Brand | Ninja |
| Wattage | 1690 watts |
| Voltage | 120 |
Why You should Buy the NInja Foodi DZ401
This multifunctional air fryer is a game-changer for anyone who wants to prepare a range of recipes. It doesn't matter if you're cooking for a large family or just seeking to meal prep for the week ahead; this air fryer can do it all.
The build quality is outstanding, and the materials that were utilized in the building are of a very high standard. Each container has its own fan and heating element, which helps to guarantee that the food cooks evenly. The interior of the containers is completely coated with a non-stick material, which not only makes it simple to clean but also prevents food from being adhered to the surface.
The Ninja DZ401 Air Fryer stands out from other air fryers on the market thanks to its one-of-a-kind features. The match cook function is exceptionally user-friendly and helpful for saving time. You are able to configure each zone, and the smart finish feature will make sure that the cooking of both containers is completed at the same time. When preparing two distinct foods that require varying amounts of time in the oven, this function comes in extremely handy.
The versatility of the air fryer is also a significant strength of the appliance. You are able to effortlessly prepare a broad variety of recipes thanks to the six features. This air fryer is capable of performing a wide range of cooking processes, including air frying, baking, roasting, air broiling, reheating, and drying. If you want a single appliance that can manage a variety of different cooking responsibilities, purchasing this item is a wise investment.
Because of its huge capacity, the air fryer is an excellent choice for large families or for anyone who enjoys preparing food in large quantities. It is possible to store up to one kilogram of french fries in a single container, which is a substantial amount. On the other hand, if you only need to prepare food for one or two people, you could find that this air fryer is too large for your requirements.
The air fryer is simple to operate, and the directions are plain and simple to comprehend. The non-stick coating makes cleanup a snap with just some soapy water, and it prevents food particles from adhering to the surface in the first place. It is essential to note that the air fryer does not give out a scent of burning when it is being used for the very first time, which is something that is commonly a cause for concern with brand new home equipment.
The air fryer is rather huge, so there is a possibility that it may take up a lot of space on the counter. This can be a problem for you if your kitchen is on the smaller side. Also, when in operation, the air fryer might produce some noise, which may be an issue for you if you have young children or if you reside in a building that has noise restrictions.
How to Set Up The NINJA FOODI DZ401 Air Fryer FOR THE FIRST TIME?
The Ninja Foodi DZ401 air fryer is very easy to set up. Here are the subsequent steps:
Unpack the air fryer: To begin, remove the air fryer from the box and all packaging materials.
Baskets and plates should be washed with soap and warm water. They should be completely rinsed and dried.
Put the air fryer into an electrical socket. Set the air fryer on a stable, flat surface and plug it into an electrical outlet.
To activate the air fryer, press the power button located on the control panel.
Choose the cooking mode: Choose the desired cooking program by pushing the associated control panel button. Air Fry, Air Broil, Roast, Bake, Reheat, and Dehydrate are available.
Use the temperature and time buttons to set the temperature and duration of cooking. The temperature range of the air fryer is 105°F to 450°F.
Fill the baskets with the food you intend to cook, being careful not to overfill them.
Insert the baskets into the air fryer and hit the start button to cook your food. The air fryer will begin cooking your food based on the selected program and settings.
After cooking, allow the air fryer to cool before removing the baskets and plates and washing them with warm soapy water or placing them in the dishwasher.
What's the Bottom Line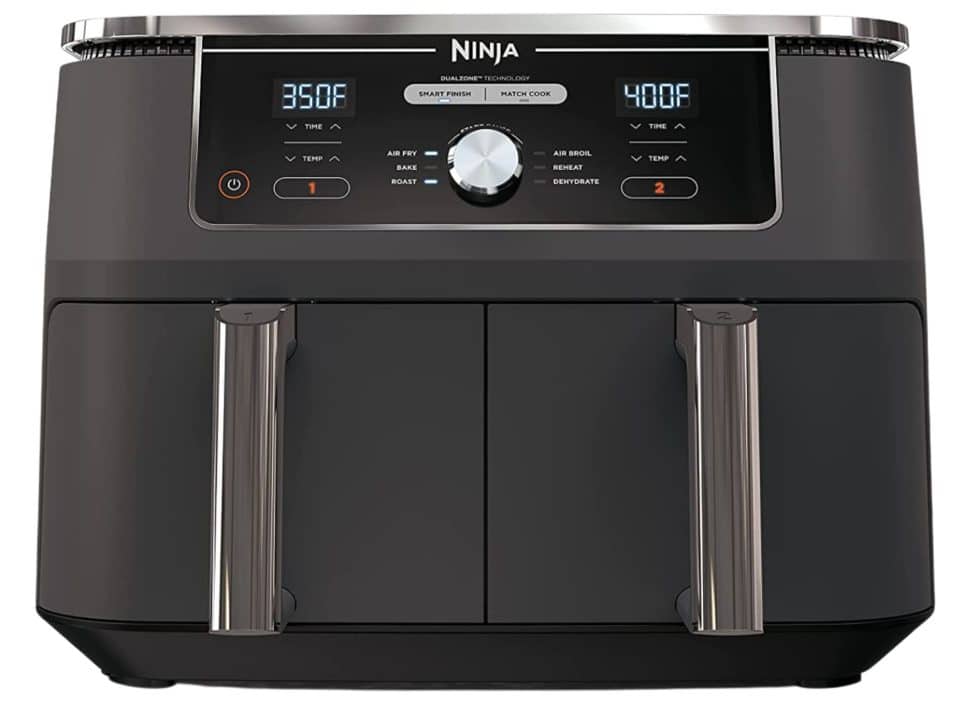 Find Out More
In conclusion, the Ninja DZ401 Air Fryer is a wonderful appliance for anyone looking for an air fryer that is suitable for large families, as it can cook two different foods at the same time; hence saving a lots of time when cooking for large families. It stands out from other air fryers available on the market thanks to its distinctive characteristics, such as the match cook function and the six different cooking modes. Those who are only cooking for one or two people may find that it is too large for their needs.
Latest posts by Ashley Ward
(see all)