Last Updated on May 16, 2022 by Ashley Ward
The Milin Air Fryer is the perfect appliance for anyone looking for a great budget option in the air fryer product range. I have reviewed many air fryers at Airfryermasterchef.com, so far with some of the budget air fryers such as Innsky Air Fryer and Milin are at a competing level.
The Milin air fryer is the perfect appliance for anyone who wants to reduce their fat intake while still enjoying delicious food. It comes with 100 Michelin-rated recipes which makes it very simple for anyone to start cooking with the air fryer.
Here is my review of the Milin Air Fryer XL 5.8 Quart. I will tell you about my experience using this family-size air fryer so you can understand its features better.
Features of 5.8-Quart Milin Air Fryer
Dimension: 14.92″ x 12.36″ x 12.83″ inches
Weight: 15.53 pounds
Temperature range: 180°F-400°F
Timer: Up to 60 minutes
7 Preset Cooking Functions
The removable nonstick coated basket is dishwasher safe, PFOA-free & BPA-free
Touch screen control
Warranty: 1 year
How to Set Up Milin Air Fryer?
The overall setup of the Milin Air Fryer is very easy.
Take the air fryer out from the box and plug the air fryer in.

Place your food in (a little cooking spray on the bottom can help some foods).
Hit start.
Flip or shake halfway through (depending on the food).
Air Fryer Review Item: Air Fryer Pork Ribs
I tried out the Milin Air Fryer by cooking some air fryer pork ribs with it.
Preheat the air fryer to 380°F. Spray some nonstick cooking spray onto the air fryer basket.
Rinse and pat the pork ribs until dry. Add bbq sauce, ground black pepper, garlic powder, and smoked paprika into a small bowl and mix well.
Rub the seasonings onto the ribs.
Place the seasoned pork ribs into a single layer in the air fryer basket. Cook at 380°F for 20 minutes.
Open the basket and brush the sides and tops of the ribs with more barbecue sauce. Cook for an additional 2 minutes.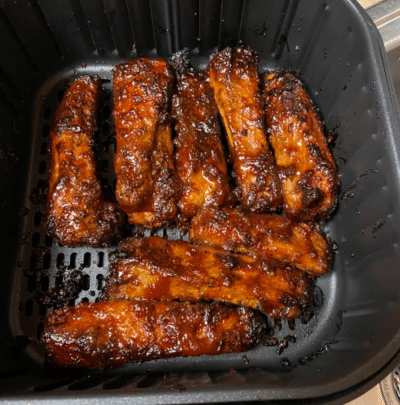 Remove the ribs from the air fryer and serve.
What's the Bottom Line
The Milin 5.8 Quart air fryer is an excellent option for those looking for a family-size air fryer at a fraction of the cost.
Its affordability and accessibility make it so appealing for anyone looking for a budget price air fryer
If you usually cook for three to five people, this is an excellent choice to consider.
Latest posts by Ashley Ward
(see all)