Last Updated on January 6, 2023
The air fryer has been getting more and more popular over the last few years, as we can see that manufacturers are coming out with more and more models and combos. Today, let me share with you my Cosori Air Fryer Review to see how it stacks up!
One popular the popular Cosori air fryer is the Cosori 5.8-quart Max XL air fryer. It has more than 10,000 reviews on Amazon and has a high rating of 4.6 stars. Read on for my full review!
My Cosori Air Fryer review will give you all of the information you need to decide if this is the ideal model for you.
Features of 5.8-Quart Cosori Air Fryer CP158-AF
Dimension: 11.8 x 12.6 x 11.7 inches
Weight: 11.5 pounds
Power: 1700 watts / AC 120V
Temperature range: 170°F-400°F
11 One-Touch Presets: Steak, Poultry, Seafood, Shrimp, Bacon, Frozen Foods, French Fries, Vegetables, Root Vegetables, Bread, and Desserts. Just choose your preset with 1 easy tap on the display and you're ready to cook. You can also set your own temperature and cook time for personal recipes.
The removable nonstick coated basket is dishwasher safe, PFOA-free & BPA-free.
Basket Dimension: 9 x 9 x 3.75 inches. The Square Non-stick Basket can fit a 5 lbs-6 lbs whole chicken.
Award-Winning Design: Winner of the Red Dot Award for the best design
Comes with 100 original, delicious & easy recipes for every meal.
Warranty: 1 year. You can extend an additional 1 year by registering online
How to Set Up Cosori Air Fryer?
The overall setup of the Cosori Air Fryer is very easy and straight-forward.
Plugin the air fryer.
Select cooking preset or manually select temp and cooking time (most foods do better if you pre-heat them)
Place your food in (a little cooking spray on the bottom can help some foods)
Hit start.
Flip or shake halfway through (depending on the food).
Cosori Air Fryer Review Item: Air Fryer Chicken Drumsticks!
In order to test the air fryer, I decided to air fry some frozen chicken drumsticks. First, I preheat the air fryer to 350°F. Then, I placed the chicken drumsticks into the air fryer basket, making sure that they are spaced out evenly. Let the chicken cook for 30 minutes, then increase the temperature to 400°F for 5 minutes to brown the skin. The result turns out to be quite good, I managed to get a crispy and crunchy skin that I wanted for the chicken drumsticks.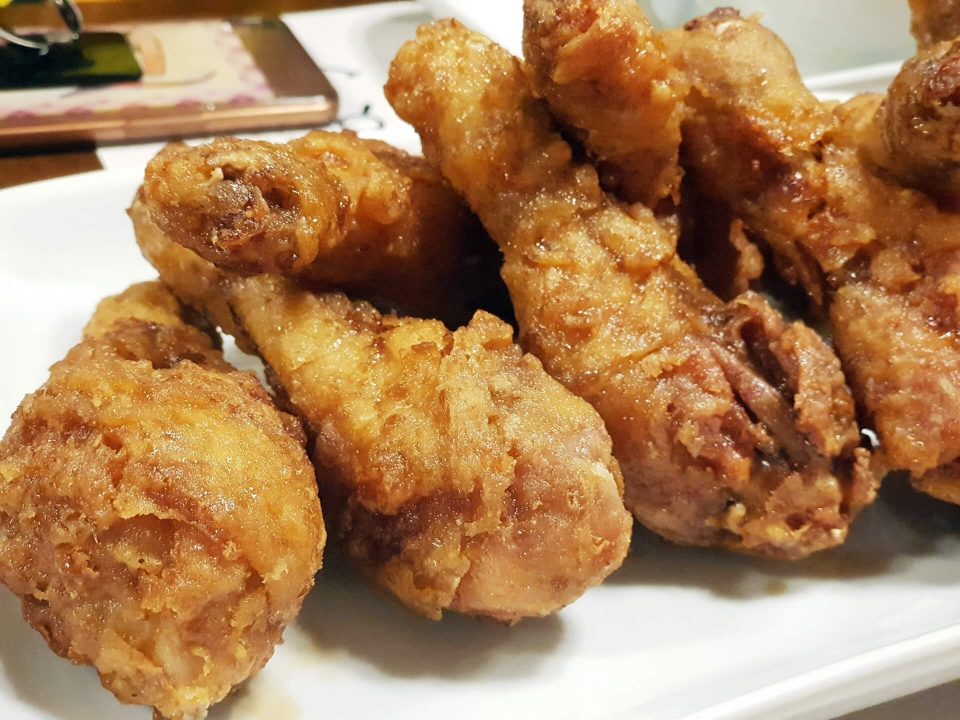 Cosori Air Fryer Review Item: Air Fryer French Fries!
Next, I tested the air fryer by cooking some french fries. I decide to use fresh potatoes instead of frozen ones.
I cut some Russet potatoes with a mandoline for easy, perfect sticks that will crisp up well. After that, I soaked the potatoes in cold water for about 1 hour. Changing the water once at around 20-30 minutes time.
Next, pat dries the potatoes. Make sure they are very dry so that you can get the crispy texture that you want. While waiting for the potatoes to be completely dry, preheat the air fryer to 375°F.
Lay the fries in a single layer to allow the hot air to circulate better. This is to ensure the fries cook evenly.
I cook the french fries for about 13 to 15 minutes. Monitor closely when they are cooking. Adjust the time accordingly as the temperature for different air fryer is slightly different. After 13 minutes, the result of the french fries is satisfying—crispy on the outside and soft inside.
What's the Bottom Line
This Cosori 5.8 Quarts Air Fryer uses 360-degree air circulation technology to cook food. Hence, it does not use any oil or just very little oil to cook the food. With this technology, air fried food is more healthy as it contains up to 75% lesser calories.
The sleek design for this air fryer has been awarded the Red Dot design award. I thought the build quality is excellent too. In term of size, it has a footprint that is not too big yet the large capacity of the basket fit a whole chicken. It is ideal for cooking for a family of 3 to 5 persons.
The Cosori Air Fryer is quick to cook, easy to use, and easy to clean. If you enjoy fried foods, or if you are looking for a simple way to cook without heating up the oven or stove, you should consider purchasing this air fryer.
Find Out More