Last Updated on April 17, 2022
Are you searching for a better way to cook healthier and less oily food, then the air fryer is right for you. The air fryer lets you enjoy fried food with little or no oil at all. If you are looking for a new air fryer, the OMORC Air Fryer XL may be for you. In this OMORC Air Fryer XL review, I will be covering all the good and bad about this air fryer. I will give you an honest opinion about this popular air fryer, which has more than 2000 5-stars reviews on Amazon.
This OMORC Air Fryer XL review will give you a better idea of this appliance to help you make an informed decision on whether to purchase it.
Features of 6-Quart OMORC Air Fryer XL (CP122A)
Dimension: 16.5 x 13.5 x 15 inches
Weight: 13.2 pounds
Power: 1800 watts / AC 120V
Temperature range: 180°F-400°F
Timer: Up to 60 minutes
15 Preset Cooking Functions
The removable nonstick coated basket is dishwasher safe, PFOA-free & BPA-free
Basket Dimension: 9.1 x 9.4 x 4.5 inches
Can fit a 5 lbs-6 lbs whole chicken
Touch screen and Knob combine control to make operation easier
Warranty: Two-year warranty
Is OMORC a good brand?
OMORC Kitchen is always dedicated to providing you with better and more convenient kitchen life solutions. Make cooking easier through the upgrading technology and user-friendly products. At present, OMORC continues to expand in the field of healthy diet appliances with new products emerging in an endless stream.
The main products include air fryers, sous vide cookers, vacuum blenders, juicers, slow juicers, electric pressure cookers, induction cookers, food processors, rice cookers, and many other products. At OMORC Kitchen, culinary inspiration is always within reach, having something for every level of home chef aspiring to delicious creativity.
How to Set Up OMORC Air Fryer XL?
The overall setup of the OMORC Air Fryer is very simple and straight-forward.
Plug the air fryer in.
Select cooking preset or manually select temperature and cooking time (most foods do better if you pre-heat it).
Place your food in (a little cooking spray on the bottom can help some foods).
Hit start.
Flip or shake halfway through (depending on the food).
Air Fryer Review Item: Air Fryer Chicken Wings
To test the air fryer, I cooked some air fryer chicken wings. First, wash and pat dry the chicken wings. Place them into a mixing bowl. Add salt, pepper, and paprika on to the wings. Add 1/2 tablespoon of Olive oil. Next, mix the wings with the seasonings, make sure they are coated evenly.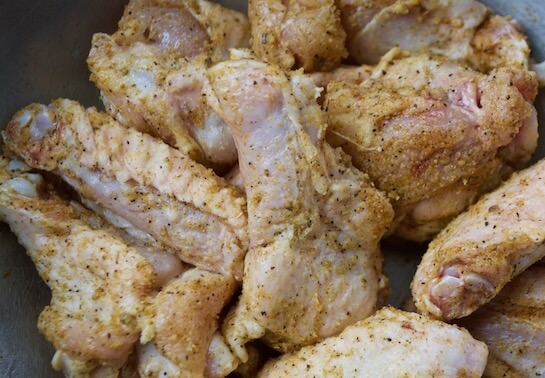 Next, i set the air fryer temperature to 400F.
Place the chicken wings into the air fryer basket and insert the basket into the air fryer.
Cook for 15 minutes at 400F.
Give them a toss after that. Then cook for another 15 – 20 minutes or until the skin is golden brown and crispy.
The fried chicken wings taste good. The skin are crispy and tasty while the inside is juicy.
Here are some other recipes that you can try out using the OMORC Air Fryer:
What's the Bottom Line
This OMORC 6 Quarts Air Fryer XL is perfect for a big family. It is easy to operate with the combination of touch screen and knob. It is easy to clean with the non-stick material. The food cooks evenly, and the air fryer is not too noisy while it is cooking. It is pretty big, so if you're short on a counter or cabinet space, this might not be the model for you. This large capacity air fryer is suitable for a family that needs to cook for 5 to 8 persons.