Last Updated on August 6, 2022
Today, I am going to give a review on the Kyvol Air Fryer AF60, which is a very popular model, that has lots of good reviews on Amazon.
Before I bought my first air fryer, I always felt it was an unnecessary oven alternative that took up valuable kitchen counter space. After I caved in and bought my first air fryer, which is the Bagotte 5.8 QT Air Fryer. I immediately fell in love with the air fryer. Besides being a healthier alternative to deep-frying, it also allowed me to explore my culinary creativity by trying different types of dishes with the air fryer instead of just fried food.
In this review, I will show you how the Kyvol Air Fryer AF60 measure up in terms of size, function, quality, and price, so that you can have made an informed decision on whether this air fryer suits your cooking needs.
Features of 6-Quart Kyvol Air Fryer (AF60)
Dimension: 11.2 x 14.6 x 13.3 inches
Weight: 15.62 pounds
Power: 1050 watts / AC 120V
Temperature range: 100°F-400°F
Timer: Up to 60 minutes
7 Preset Cooking Functions
The removable nonstick coated basket is dishwasher safe, PFOA-free & BPA-free
Can fit a 5 lbs-6 lbs whole chicken
Touch screen control with manual dial
Warranty: Register online to get 2 years warranty
How to Set Up Kyvol Air Fryer?
The overall setup of the Kyvol Air Fryer is very simple and straight-forward.
Plug the air fryer in.
Select cooking preset or manually select temperature and cooking time (most foods do better if you pre-heat it).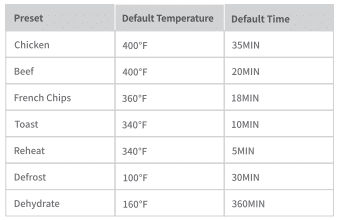 Place your food in (a little cooking spray on the bottom can help some foods).
Hit start.
Flip or shake halfway through (depending on the food).
Air Fryer Review Item: Air Fryer Frozen Tempura Shrimp
Remove the frozen shrimp tempuras from the packaging and remove any excess tempura breading that has fallen off in the box.

Place your shrimp tempuras into your air fryer basket.
Cook for 10 minutes at 350°F.
Once cook, slowly takes the fried tempura shrimps out from the basket and let it rest for a few minutes. Serve with your favorite sauce.
The air fryer tempura shrimp turns out to be all well cooked, crispy on the outside and juicy inside. Not too dry.
Here are some other recipes that you can try out using the Kyvol Air Fryer:
How to Clean the Kyvol Air Fryer?
Clean the air fryer oven after each use. Unplug the power cord from the wall socket and be certain the appliance is thoroughly cooled before cleaning.
The accessories are dishwasher safe but never use abrasive cleaning materials or utensils on their surfaces to avoid scratches.
Soak the caked-on food in warm, soapy water for easy removal.
Wipe the outside of the appliance with a warm cloth damped with mild detergent.
Clean the inside of the appliance with a warm nonabrasive sponge damped with mild detergent.
If necessary, remove unwanted food residue from the control panel with a cleaning brush.
What's the Bottom Line
From this Kyvol Air Fryer review, I recommend this model for a mid-size family. You can easily cook for 4-5 persons. It is versatile and easy to clean, and that the food basket comes with nano-scale ceramic coating which is Teflon (BPA free). This makes the basket and the crisper plate shiny forever.
The 7 Preset functions make cooking quick and easy. You may air fry, bake, grill, roast, dehydrate, reheat and see the whole process clearly through the transparent window. With the hot air circulation technology, the air fryer cooks 4 times faster than a conventional oven, and it reduces 85% of fat compared with the traditional deep frying method. Cleaning up is also effortless, as the air fryer basket is dishwasher friendly. You can just put it in the dishwasher after cooking. This model comes with a 1.5-year warranty, and you can get an additional 6 months warranty when you register online. So if you're looking for an air fryer, I'd recommend giving the Kyvol AF60 a try.