Last Updated on May 16, 2022
Oh my goodness, can you believe it? I just try out the Gevi Air Fryer Toaster Oven combo and I'm amazed by it. If you are looking for an oven-type air fryer, this is a model you should consider.
It has a large capacity inside yet it just does not take up a lot of space on the kitchen countertop.
The Gevi Air Fryer Toaster Oven Combo is a great appliance to have in your kitchen. It has all the functions of a regular toaster oven, and also air fries your food. This appliance is a great way to cut down on the number of appliances you need, and it's easy to use. Read on for my full review.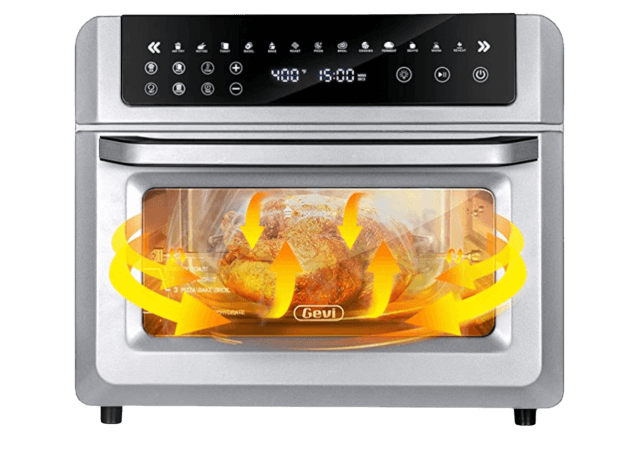 Here is my review of the Gevi Air Fryer Toaster Oven Combo. I will share with you my experience using this large-size air fryer.
Features of GEVI Air Fryer TOASTER OVEN COMBO
External Dimension: 15.75 x 13.98 x 13.39 inches
Internal Dimension: 13.1 x 12.2 x 7.3 inches
Weight: 20.9 pounds
Temperature range: 100°F-450°F
Timer: Up to 60 minutes
13 Preset Cooking Functions
6 Accessories Included: 1 x Rotisserie Fork , 1 x Rotisserie Tong, 1 x Basket, 1 x Wire Rack, 1 x Food Tray, 1 x Crumb Tray
Touch screen control
Warranty: 1 year
How to Set Up The GEVI Air Fryer FOR THE FIRST TIME?
Follow these steps to set up the air fryer.
Select a location for the unit. Do not place the unit under cabinets or too close to the wall or other equipment to allow the heat to flow. Plug the unit into a designated electrical outlet.
2. Unbox the Unit, and remove the packing materials and any stickers. Remove the detachable accessories from the air fryer oven.
3. Rinse the accessories with warm water and dry thoroughly.
4. Plug in the Unit. Press the POWER button and set the oven to any menu presets and follow the steps below:
a. Place slices of lemon in it.
b. Press the Temperature button and using the + and – button set to 350°F.
c. Press the Time button and using the + and – button set to 5 minutes.
5. Wait for the unit to begin heating and help to remove the smell.
Air Fryer Review Item: Air Fryer CHICKEN DRUMSTICKS
I tried out the Gevi Air Fryer by frying some chicken drumsticks with it.
Wash and pat dry the chicken drumsticks. Place them into a large bowl, add paprika, garlic powder, onion powder, salt, and pepper, and marinade evenly. Leave in the fridge for at least one hour.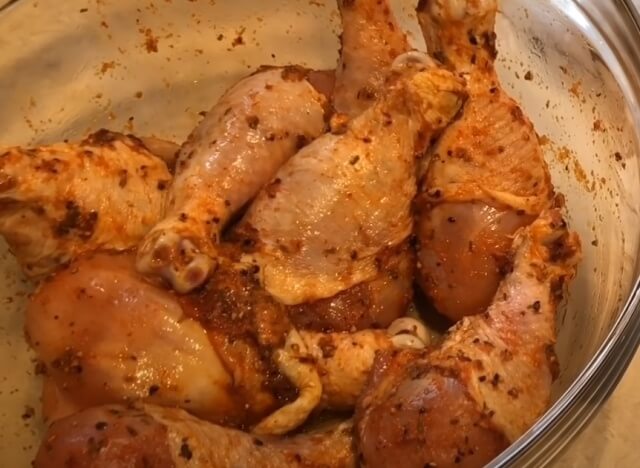 In another bowl, add eggs and buttermilk. Whisk and mix well.
In a shallow bowl, add some corn starch.
Drip the chicken drumsticks into the buttermilk mixture and coat them with corn starch one at a time.
Preheat the air fryer to 380F for 3 minutes.
Next, place them onto the wire rack and put them inside the Gevi air fryer toaster oven.
Cook for 20 minutes at 380F.
Once cooked, serve them with your favorite side dishes.
What's the Bottom Line
The 20 Quarts Gevi Air fryer Toaster Oven is an excellent option for those looking for a family-size air fryer that can cook for 6 to 8 people.
You will save lots of them with this large air fryer as you will not need to cook the food in a few batches.
With the 13 preset functions, you are able to replace a few appliances with this air fryer toaster and hence saving some of the countertop space.